Find the right camera for Laser Beam Analysis
Every SWIR application has its individual requirements. We know how to help you find the best camera solution for your laser beam application.
Laser beam profiling is a technique used to analyze and characterize the properties of a laser beam complementary to simple power or energy measurements. It involves measuring various parameters such as spatial energy or intensity distribution, beam widths, centroid, ellipticity, and orientation. The primary goal of laser beam profiling is to obtain a comprehensive understanding of the laser beam's characteristics, which helps in assessing its performance and optimizing its usage for specific applications.
There are numerous laser wavelengths available in the UV, visible, NIR, and SWIR range but also far beyond, up to 1mm (Far-IR), each with its own unique properties and application fields. For example:
UV lasers with their short wavelength and higher quantum energy are used in semiconductor manufacturing (e.g. lithography@ 193nm or 248nm) and fluorescence imaging (355nm).
Visible lasers in the red are well known from barcode scanners or positioning systems. Whereas green lasers with their increased visibility and brightness are often applied in alignment systems and scientific research.
NIR lasers are often used for welding, cutting, and marking applications, due to their ability to deliver high power outputs and precise control. But also in the healthcare industry (e.g., laser surgery) or LIDAR applications used in autonomous driving and advanced driver assistance systems (ADAS) as well as process control, transport, and logistics as they are less critical and invisible for the human eye.
SWIR lasers are typically used in telecommunications (1310nm or 1550nm) and biomedical applications (1064nm – 2,200nm) as SWIR wavelength can penetrate deeper into soft tissue with reduced scattering and less autofluorescence.
There are many crucial characteristics when selecting the appropriate camera for laser beam profiling system. For example:
Suitable wavelength range support to accurately capture and measure the laser beam at the desired wavelength.
High spatial resolution allows for better characterization of beam features such as beam width, shape, and intensity distribution.
Suitable sensor size to accommodate the beam diameter of the laser being profiled. It should be able to capture the entire beam without clipping or truncation.
High dynamic range to handle both low and high-intensity laser beams without saturation or loss of sensitivity.
A low noise level is important to prevent random fluctuations in pixel values, resulting in a grainy or speckled appearance.
High linearity is an important characteristic to ensure the captured image accurately represents the true intensity values of the laser beam. This is particularly important when analyzing laser beams with varying intensities across their profile.
Easy system connection via standardized data interfaces.
Optimized optical path to prevent image artifacts caused by reflections, scattering, or diffraction.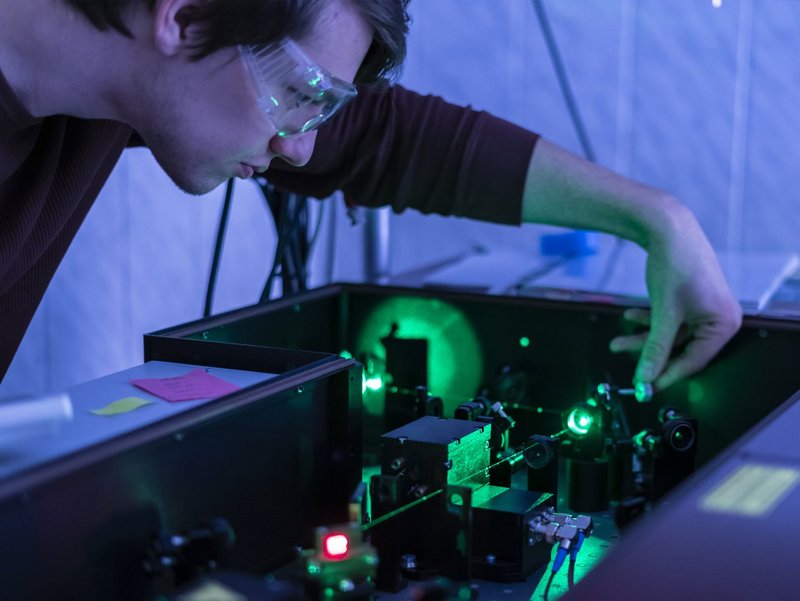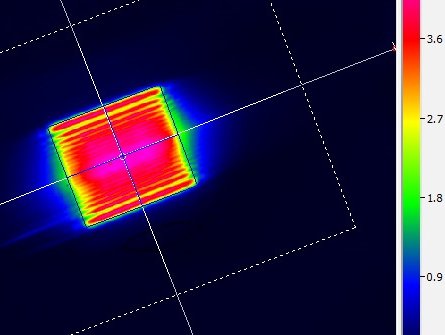 Cameras for Laser Beam Profiling
Goldeye SWIR (above) and
Alvium SWIR (below) cameras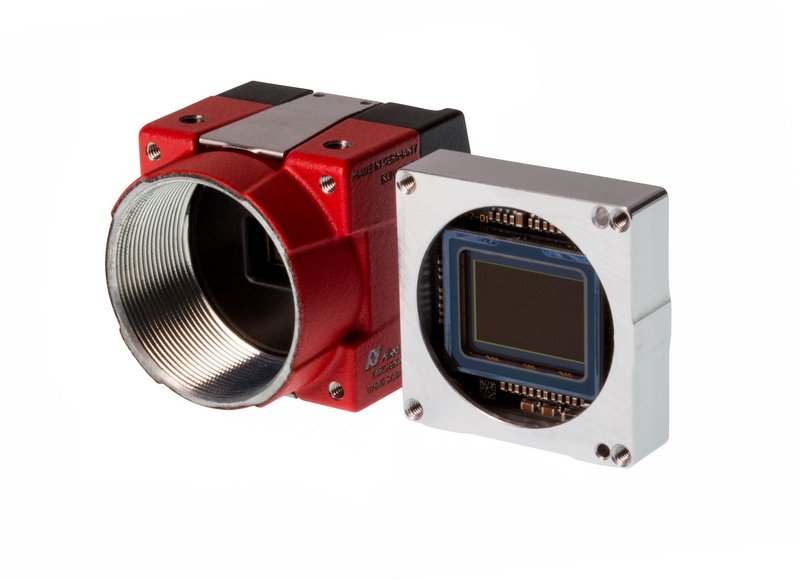 Allied Vision is offering camera solutions sensitive in the UV, visible, NIR, and SWIR range (200nm – 2.200nm) at sensor sizes up to 23mm x 23mm. All cameras are equipped with an interface standardized for Machine Vision, such as GigE, 5GigE, USB3 or Camera Link. Alternatively, Alvium cameras can also be ordered with a CSI-2 interface, which is particularly suitable for Embedded Vision applications.
GenICam-complient features as well as a freely available comprehensive SDK with optimized drivers also offer you a plug & play feeling during camera start-up and system integration.
A special highlight is the Removed Cover Glass (RCG) option, which Allied Vision offers for all cameras with Sony IMX sensors and for most SWIR sensors. This enables you to achieve the best possible imaging results. Image artefacts caused by scattering from particles in the beam path or by contamination in the anti-reflection layer of the sensor glass are eliminated in this way. The same applies to reflections caused by the glass itself.
For Laser Beam Profiling in the SWIR range we offer several solutions ranging from high-end solutions with thermo-electric cooling (Goldeye) to tec-less boardlevel version cameras to develop SWaP+C OEM solutions (Alvium SWIR).
All cameras provide a high linearity, which is supported by 2-point correction.
Camera

Wavelength
range

Beam size
min....max

Resolution
H × V

Spatial
resolution

Dynamic
range


Goldeye G/CL-008

900 - 1,700 nm
1,100 - 1,900 nm
1,200 - 2,200 nm

300 µm - 7.4 mm

320 × 256

30 µm

70 db
68db
68 db

Goldeye G/CL-032

900 - 1,700 nm

250 µm - 15.4 mm

636 × 508

25 µm

73 db

Goldeye G/CL-033

900 - 1,700 nm

150 µm - 7.4 mm

640 × 512

15 µm

69 db


Goldeye G/CL-034

900 - 1,700 nm
1,100 - 1,900 nm
1,200 - 2,200 nm


150 µm - 7.4 mm


636 × 508


15 µm

69 db
69 db
68 db

Goldeye G/CL-130

400 - 1,700 nm

50 µm - 6.1 mm

1280 × 1024

5 µm

57 db

Alvium C/U/G1/G5-130

400 - 1,700 nm

50 µm - 6.1 mm

1280 × 1024

5 µm

57 db

Based on our sophisticated SWIR camera solutions, we are always open to discussing a tailor-made solution with you, which includes special functionalities or mechanical adjustments, for example. Our experienced technical experts look forward to learning more about your unique OEM needs.
Are you interested in finding the right camera for your application?
Contact our experts now!