Small and powerful
Ultra-compact GigE Vision cameras
Mako is an attractively priced GigE Vision-compliant camera in a compact rugged industrial housing. Many models include advanced functionalities such as Precision Time Protocol (PTP), Trigger over Ethernet (ToE) Action Commands, and Power over Ethernet (PoE). Screw mount RJ45 connector and multiple I/Os facilitate your straightforward system integration. Mako cameras are also avilable as Near Infrared (NIR) and polarizer variants.
Mako is a small and compact industrial camera. Benefit from its great price-performance!
Robust design: ultra-compact industrial housing

Eased system integration via Power over Ethernet, Trigger over Ethernet, and multiple I/O functions

Multi-camera synchronization via PTP or Action Commands available for selected models

NIR and polarizer variants available
Resolutions: up to 12 megapixels
Sensor: CCD and CMOS global, rolling, and global reset shutter sensors from Sony, CMOSIS/ams, ON Semi, and Teledyne e2v
Frame rates: up to 309 frames per second
Housing options: Compact and robust industrial-grade metal housing
Lens mount options: C-Mount, CS-Mount, or M12/S-Mount (adapter)
Image colors: Monochrome, color, and near-infrared (NIR)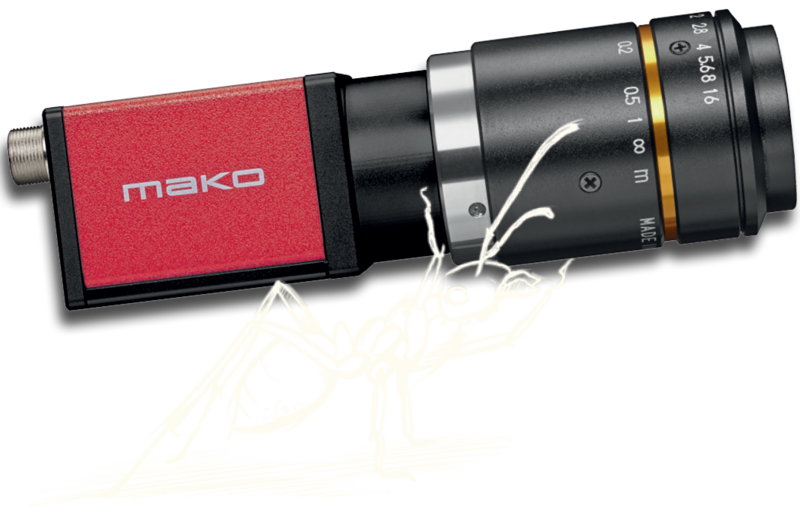 Ultra-compact and feature packed
We have put alot of features and functionalities into this sugar-cube format Gigabit Ethernet camera.
Popular lens mount options including C, CS, and M12 (S) mount enble to use a wide range of lenses.
Power over Ethernet allows you to transmit data and power via the same cable up to 100 meters. Several models support Trigger over Ethernet enabling a single-cable solution, which also helps to reduce system complexity and costs, as well as IEEE 1588 Precision Time Protocol (PTP) allowing precise synchronization of multiple cameras in a system.
The right accessories for every application
The Mako camera series can be equipped with several accessories.

Perfectly connected – thanks to powerful software
Have you heard of Vimba, our platform independent SDK (software development kit)?
Thanks to our in-house software you can easily integrate our cameras into any system and manage them centrally.
Vimba runs on Windows, Linux, and Linux for ARM.
With Vimba, you can acquire images and control your Allied Vision camera instantly, program complex vision applications or connect to third-party libraries.