Helping system integrators create powerfull imaging systems fast and efficiently
At Allied Vision, we focus on what counts. What counts for system integrators is fast and simple integration of vision components into a unified image formation geometry that provides optimal image quality. We collaborate with system engineers to select best fit vision hardware and software for specific applications. With our industry leading technical support, you will have an Allied Vision engineer at your side during the project's complete life cycle.
Allied Vision cameras are designed for industrial applications. They are built to last with reliability supported by our long-term availability policy. Full hardware and software compatibility are guaranteed by industry standards such as GenICam. But what makes Allied Vision cameras special is their versatility and modularity. With various options available, you can find a camera solution that meets your special needs.
Selecting the right camera is not always an easy thing to do. Our vision experts are here to help you determine the right resolution to achieve your accuracy requirements, frame rate to exceed the fastest speeds and image pre- processing features to achieve success first time!
To obtain the best image quality, the right camera must be paired with the right optics. Our cameras are available with various optical filters to meet your requirements. We have also selected lenses from leading manufacturers and performed comprehensive tests to be able to offer you the best possible camera-lens combination.
Lens selection also depends on the footprint of your intended solution: What is the size of the part? What field of view will be required? What kind of angular rotation will the part have? What is the working distance between the part and the camera? What is the required measurement or positional accuracy? What are the hardware mounting limitations?
Tell us about your requirements and we will find the camera-lens combination that meets your requirements.
We are here to help you select the right resolution, frame rate, and features for your success.
Christoph Noth, Director, Sales EMEA
In machine vision applications, cameras are typically triggered by an external component such as a photoelectric cell detecting the presence of an object. Allied Vision cameras are equipped with input ports for low latency triggering. We also provide cables and connectors with the appropriate pinning to easily connect your camera to an external sensor.
Synchronizing your Allied Vision camera with a strobe couldn't be easier with the output port of its General Purpose Input and Outputs (GPIO). Our industrial-grade I/O cables and the pinning documentation provided in partnership with leading illumination vendors will help you get started. See the CCS Lighting with Mako cameras application note for information on lighting option from the CCS Group including example use cases with Mako cameras.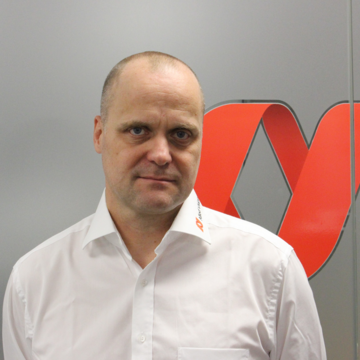 We partner with vision industry suppliers to offer the suitable accessories for your project.
Norman Deh, Senior Applications Engineer
The performance of your system depends on the performance of its weakest link. Incorrect selection of interface components can reduce bandwidth or even lead to lost image data. We have selected industrial grade networking components to help you get the most out of your Allied Vision camera in single and for multi-camera systems: interface cables, hubs and switches, host interface cards.
Focus on what counts: programming a powerful software solution that solves your customer's problems. Don't worry about software compatibility. Allied Vision's popular Vimba software suite ensures your camera will be easy to configure and control.
We provide APIs for the most popular progamming languages. And our cameras are fully compatible with image processing libraries such as NI LabView, Cognex Vision PRO, Matlab or MVTec Halcon.
We help you to get a step in programming vision applications.
Our experts are happy to help!
Unsure which camera model is the perfect choice for you? Want to learn more about the camera integration in your application system? Or are you curious about the price? Contact us and get a quotation tailored to your needs!