Goldeye SWIR
Imaging beyond the visible spectrum
Goldeye is a compact industrial and advanced scientific SWIR camera series. Benefit from its high versatility!
See the invisible
Short-wave infrared (SWIR) cameras with InGaAs sensor technology
Goldeye cameras are equipped with InGaAs sensor technology making them sensitive in the short wave infrared spectrum ranging from 900 nm to 1,700 nm. Some models have extended sensitivity in the visible spectrum down to 400 nm or up to 2200 nm. All Goldeye SWIR cameras can be operated at very high frame rates and capture outstanding low-noise images. They are the perfect choice for industrial and scientific applications beyond the visible spectrum. All Goldeye models are available with either a Camera Link or a GigE Vision interface.
Goldeye is a compact industrial and advanced scientific SWIR camera series. Benefit from its high versatility!
Its modular design offers you SWIR cameras in multiple-flavors whether resolution, interface, lens-mount, optical filter or sensor cooling wise (TEC1, TEC2, TECless).
Multiple image processing features and optional sensor cooling ensure you best imaging results with low-noise, high linearity and dynamic range
High frame rates enable to speed up your processes
Experience an eased system integration supported by features like, Power over Ethernet enabling single cable solutions, comprehensive I/O control functionality, or multiple mounting options.
Resolutions: up to 1.3 megapixels (XGA resolution)
Sensor: InGaAs FPA sensors, spectral range 900 to 1700 nm (SWIR) and 400 to 1700 nm (Sony VSWIR)
Frame rates: Up to 344 frames per second
Housing options: Small form factor, ruggedized precision machined 6061 aluminum housing with premium anodized coating
Lens mount options: C-Mount, F-Mount, M42-Mount
Image colors: Monochrome short-wave infrared (SWIR), monochrome visible spectrum with short-wave infrared (VSWIR)
Stabilzed sensor temperatures using thermo-electric cooler (TEC)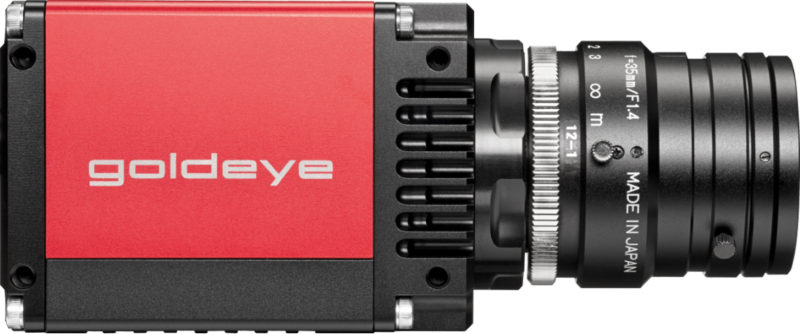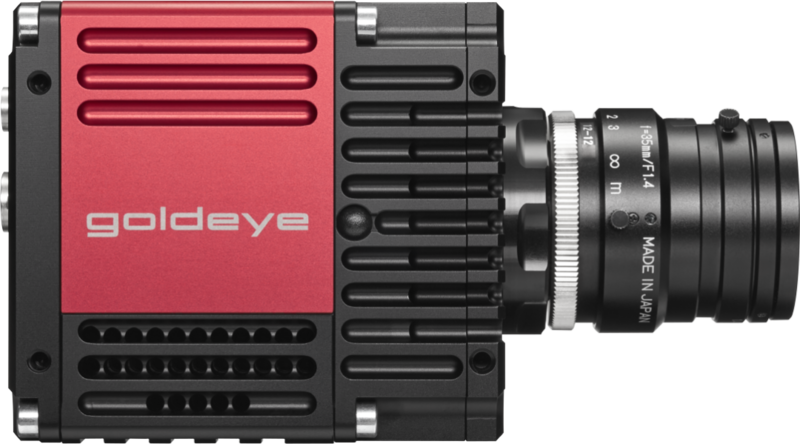 Goldeye cameras support active and passive thermal management features and are available in two housing designs. The compact, rugged industrial version is available either with or without single-stage thermo-electric cooler (TEC) that support model-specific both sensor cooling and heating to optimize the adoption to environmental conditions and ensure reproduceable imaging results.

The advanced scientific version is equipped with single- or dual-stage TEC that is integrated into a nitrogen filled cooling chamber to enable strong sensor cooling by up to 60K without condensation and to capture images at very long exposure times. Here the heat generated by the TEC is removed by an internal fan that can be switched off to prevent image artefacts caused by vibrations.
The active sensor cooling is supported by the robust heat dissipative alluminium housing enabling an extended operating temperature range for Goldeye cameras.
The right accessories for every application
The Goldeye camera series can be equipped with several accessories.

Flexible connectivity – connect via the frame grabber SDK
Have you heard of Vimba, our platform independent SDK (software development kit)? Thanks to our in-house software you can easily integrate Goldeye cameras with GigE Vision interface into any system and manage them centrally.
Vimba runs on Windows, Linux, and Linux for ARM. With Vimba, you can acquire images and control your Allied Vision camera instantly, program complex vision applications or connect to third-party libraries.

Goldeye cameras with Camera Link interface can also be configured easily via Vimba SDK. To capture/stream images you have to use the frame grabber SDK.