Migrate your vision system from a PC to an embedded system without performance tradeoff!
Alvium 1800 C camera series
Merging machine vision standard features and the advantages of embedded systems in CSI-2 cameras
The high-performance Alvium 1800 C MIPI CSI-2 camera series now offers access to Sony's high-performance image sensors, which are popular in the imaging industry, with outstanding image quality thanks to a resolution of up to 20 megapixels.
With the new GenIcam for CSI-2 functionality, the Alvium 1800 C cameras combine the advantages of embedded systems (small size, low weight and low power consumption) with the wide range of standard features for machine vision. As a result, the cameras now pave the way for an uncompromising transition from PC-based machine vision applications to embedded systems.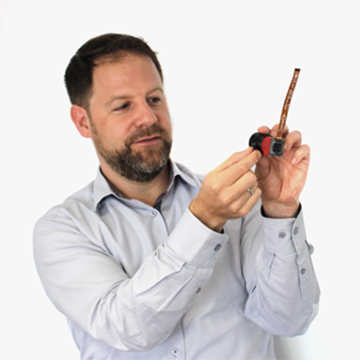 Alvium 1800 C is the perfect camera for those seeking to migrate from PC-based to embedded systems without trading off on image quality, speed and precision.
Gion-Pitschen Gross, Director Product Management & Marketing at Allied Vision
Small size, low weight, low power consumption
Advantages of embedded solutions

With our Alvium CSI-2 driver 3.0.0 for NVIDIA Jetson, users can also benefit from the machine learning and AI capabilities of NVIDIA Jetson systems.
The cameras can be controlled with Allied Vision's Vimba software development kit or any other third-party GenICam-compatible software.
Compared to a USB camera, CPU load can be reduced by up to 70% with a CSI-2 camera:
Benefit from embedded advantages through easy migration from USB to CSI-2
Our new firmware now enables direct GenICam access for MIPI CSI-2 cameras. This means that GenICam-based image processing applications can now be easily implemented with CSI-2 cameras. In addition, these cameras can now be used with our Vimba SDK and a variety of GenICam features.
GenIcam for CSI-2 access enables easy migration
Existing GenICam-based applications configured with a USB camera can now be migrated to CSI-2 cameras. All SFNC (Standard Features Naming Convention) features available with Alvium USB3 cameras can also be used with CSI-2 cameras thanks to GenICam for CSI access.
You would like to switch to embedded?
Contact us and get support
Get your matching Alvium 1800 CSI-2 camera:
Starting with a selection of Alvium 1800 C models with Sony IMX global shutter (1800 C-507, 1800 C-511, 1800 C-1236) and Starvis rolling shutter (1800 C-2050) together with the OnSemi AR0521 Sensor (1800 C-500) Allied Vision will continuously expand the number of models officially tested and validated for the use of GenICam for CSI-2.