Do you prefer a working environment that is out of the ordinary? You are in luck. We are a colorful bunch made up of more than 15 nationalities, operating in 5 countries around the world.
As a global player with offices in Europe, Canada, USA, Singapore and China we handle projects on a local and international level. Wherever in the world we find ourselves, we approach both work and play with passion and convince with our solutions.
We believe our internationality and diversity are among our greatest assets. The different people on our teams come together, combine their skills to achieve amazing results and creates open-mindedness and curiosity.
Collaborating with our colleagues from all around the world is at least as important to us as a lively exchange of information. Working together is not just part of what we do. It is what we do.
Does that sound like somewhere you would like to work and develop yourself professionally and personally? Great! Join us.
Together we want to bring the Allied Vision brand to life. As we continue to grow our business, it's important that we present a distinctive face to the world. We do this by appearing together and conveying a consistent impression in the marketplace without restricting the individual and creativity. Instead, we are intended to inspire the development of clear, intelligent and on-brand communications which can be found in our three brand elements. We want to ensure that the clarity and distinctiveness of our brand presence matches the quality of our products and expertise at every touch point.
The Allied Vision brand and our visual brand elements summarize our brand characteristics and demonstrates how our brand elements are combined to create a clear and vibrant visual personality.
The characteristics of our values ​​reflect our spirit and attitude. They are the principles that determine how we should behave and make decisions. With the Allied Vision Brand Values, we put our mission statement into practice every day.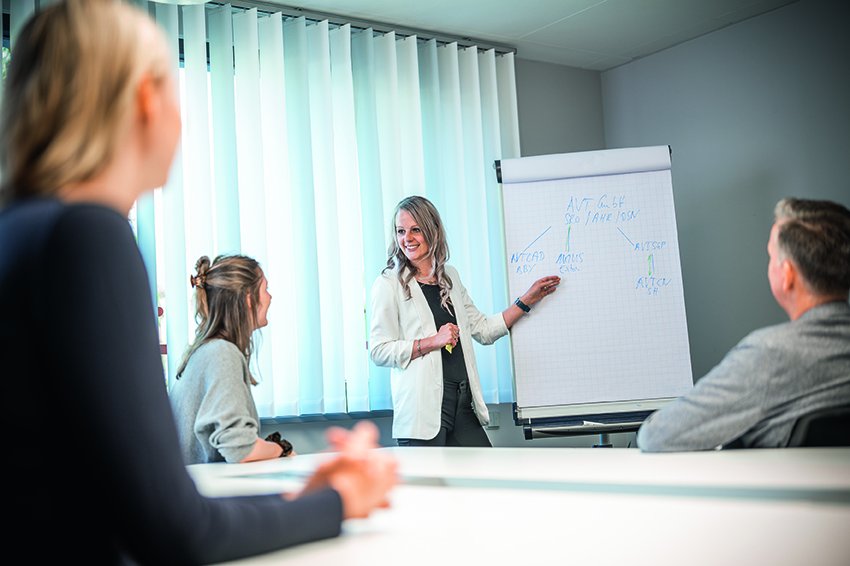 These are our values, strategy, employer brand and culture, which we clarify in three main elements and which are also reflected in our brand.
And all three maintain a nice basic attitude: the "we" always comes before the "I".
We are insightful:
We are perceptive and tuned in to customer needs and market trends. Our knowledge drives mean-ingful innovation and ensures service is smart and responsive.
When we're Insightful we're perceptive, meaningful, smart, responsive.
We are collaborative:
We value the importance of working together to deliver the right solutions for our customers. Our expertise is without borders as we learn from and support each other where and when it matters. When we're Collaborative we're supportive, help-ful, open and integrated.
We are enterprising:
We are ambitious for the future and unafraid to take risks that advance our work. Our approach is proactive and resourceful, seeking to achieve the best results every time. When we're Enterprising we're proactive, resourceful, innovative, agile.
The focus is on the employee
By linking and sharing interdisciplinary expertise, goal-oriented work and creating values ​​and innovative ideas, we have achieved great things together. A structured approach with a clear focus on the goal and appropriate communication are decisive for success. The following processes are our top priority and are regularly adapted to the new circumstances:
Excellent global onboarding is a key factor in efficiently integrating employees into the team. With the help of our onboarding process
New colleagues can quickly fulfill their role by getting to know their tasks, relevant stakeholders and important processes in a structured manner.
The transfunctional and virtual collaboration is ensured especially at the beginning.
The managers are involved and are responsible for the successful onboarding, which means that in addition to general appointments, individual training is also guaranteed.
We know that all employees contribute to our success. And we know that every employee has their strengths and passions. We promote the development and personal career of every employee by discussing the goal together and determining the necessary steps. Whether internal, external or individual training - this is defined together and the corresponding training is booked.
In a global company, feedback and positioning are important for every employee. Above all, it is about a two-way dialogue, orientation and appreciation, which we focus on in regular jour fix appointments, the target agreement meetings and the annual employee reviews. The aim is demand-oriented input and an open exchange.
A company health management system ensures that workload is minimized and personal resources are strengthened. It optimizes workplace conditions and increases job satisfaction and also supports the work-life balance.
Our WHM measures are divided into three areas: prevention (selection of preventive measures),
Treatment (selection of curative measures) and support (provision of information on external prevention and treatment). We actively involve our employees and provide the support they want
Why Allied Vision as an employer?
It's mostly the little things that make a difference and make the big picture. Whether a joint lunch or cooking meeting in the kitchen, on-site parties or team barbecues, an international network or modern workplaces at all locations, as well as satisfaction surveys in which every employee can express their opinion. There are many good reasons why you should work at Allied Vision.
Because not only the compatibility of work and family is very important to us, but also many other attractive professional and private aspects speak for your application in our company.
Flexible working hours and special home office offers
Health promotion through health days or sporting events (also with family members)
HVV professional ticket
Job wheel
External and anonymous employee hotline for difficult private and family situations, this offer also applies to first-degree family members
Sabbatical
Special leave for special events
The easiest way is via our online application portal, in which you enter your personal data in a mask and upload your documents.
To get a first impression of your qualifications, we need an up-to-date CV, important certificates and references from you. Please also include a cover letter describing why you would like to be part of Allied Vision. The file should not exceed 3 MB
We will process your application as quickly as possible. If everything fits, we will invite you to an initial meeting. After a first round you will have a second conversation, in which you will also have the opportunity to get to know a member of the team and ask questions directly. In order to get a better impression of the way you work, you may also receive a small assignment from us and present the results in the second interview. Of course you have a few days to prepare and a contact person available should you have any questions.
The entire application process usually takes 3-4 weeks. However, if it takes longer, we will inform you about it immediately.
If you cannot find an open position that matches your skills, but you are still interested in us, you can submit your application here. You can also subscribe to our Job Alert to be informed about current vacancies.
Since we are in constant contact with our colleagues who are in charge of another area, we always know which positions are vacant. If we are of the opinion that your profile also fits another position, we will consult with you and, if you agree, the process will be continued in another position.
Your data and documents will be deleted in accordance with the EU General Data Protection Regulation (EU DSGVO).
Since we are globally positioned and the English language is in daily use, you are welcome to apply in English
In your cover letter, please include the name of the person who recommended you or who made you aware of us. If the employee is successfully employed, they will receive a finder bonus.
We have already recruited several employees from abroad and are happy to support you. You can contact your HR colleague directly if you have any questions about visa creation, your living situation in Germany or the like.
In the invitation to a telephone interview you will receive a link that you can easily open and take part in the conversation. An installation of teams is usually not necessary.
Our dress code is business casual. That means, for example: Jeans with a shirt or blouse and sneakers are okay.