EMBEDDED VISION CAMERA MODULES FOR NVIDIA® JETSON™ PLATFORM USERS
Allied Vision has partnered with NVIDIA to make industrial computer vision cameras and their benefits accessible to Jetson-based system designers through the Alvium Series of MIPI CSI-2 and USB cameras. Thanks to the ALVIUM® Technology, prototyping and system integration have never been so easy and future system updates are more flexible.
One Vimba MIPI CSI-2 driver for all sensors
Allied Vision's Alvium 1500 cameras with MIPI CSI-2 interface can be controlled via Video4Linux2 or direct register access.

Don't waste time on driver development: download, install, and get started!
To help you with a quick and easy start, Allied Vision provides open-source MIPI CSI-2 drivers for NVIDIA Jetson TX2 with Jetson AGX Xavier and Jetson Nano to follow shortly. You can find them on our GitHub page. Please contact us for earlier beta-versions.
One driver fits all: enjoy the flexibility!
Each Vimba driver supports all current and future Alvium camera models with MIPI CSI-2 interface, regardless of the image sensor. That means that you only need one driver for your NVIDIA platform, regardless of the sensor resolution you choose. You can prototype with various camera models using the same driver or easily upgrade your system with another sensor later – even if this sensor is not yet released! Any Alvium MIPI CSI-2 camera will run on your system with the same driver.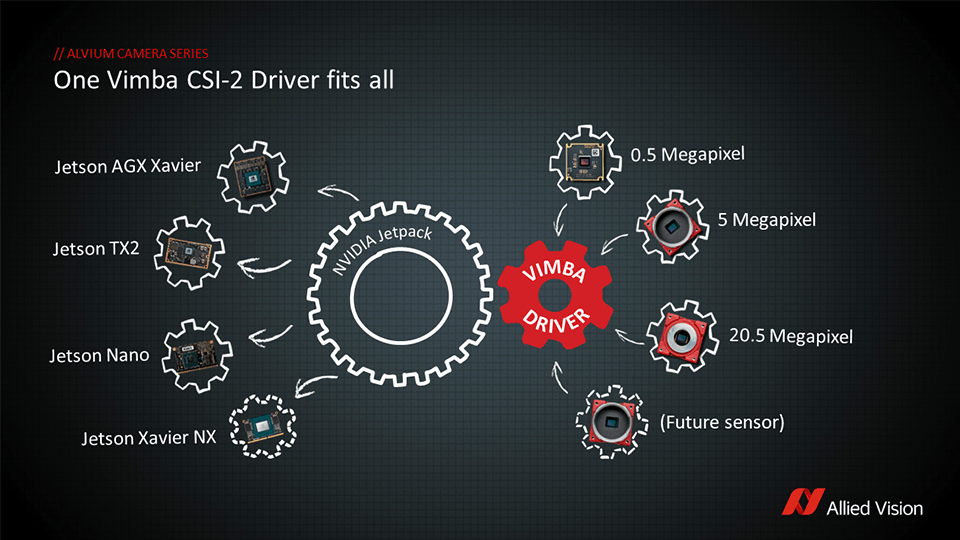 Vimba Software Suite for industrial performance
Explore the power of industrial machine vision!
Allied Vision's Vimba software suite not only provides powerful drivers. It offers everything you need for a quick and easy integration of Allied Vision's GenICam-compliant cameras. This includes the Alvium 1800 USB3 Vision cameras as well as Allied Vision's comprehensive range of GigE Vision cameras. GenICam is a machine vision standard that allows advanced image correction and pre-processing performed inside the camera.

Choose and switch between interfaces and platforms
The Vimba suite includes a software development kit (SDK). It is interface and platform independent. It supports Windows, Linux and Linux for ARM for easy integration of your camera into your NVIDIA Jetson system. That means that you can evaluate an image sensor with different camera interfaces, and easily port your code from one interface to the other and from one platform to the other.

Program your application with our powerful APIs or take advantage of the compatibility with GenICam compliant third party image-processing libraries.


Easy prototyping with Allied Vision accessories
Start up quickly with evaluation and prototyping with our camera accessories!
Allied Vision provides adapter boards to convert the MIPI CSI-2 pinning of Alvium cameras to NVIDIA Jetson TX2, AGX Xavier, and Nano development kits. Our driver and adapter board for Jetson TX2 support using 2 Alvium CSI-2 cameras at the same time without additional configuration. For quick and easy camera evaluation, we provide code examples on GitHub.

Also check out our CSI-2 and screw-locked USB cables as well as our comprehensive selection of lenses for your Alvium camera. Our experts are here to help you choose the most appropriate optics for your application. Contact us for advice!