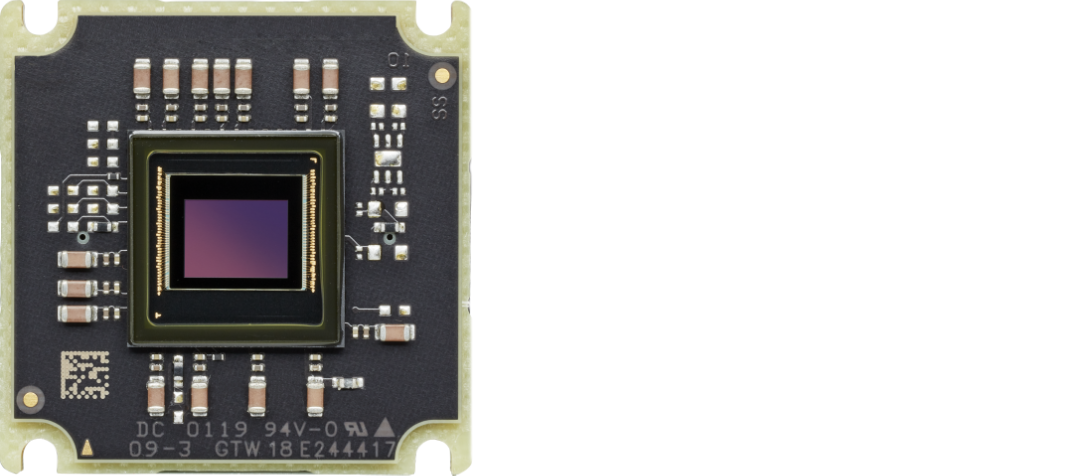 Alvium 1500 C
-120
AR0135CS CMOS sensor
ALVIUM image processing
MIPI CSI-2 interface
Various hardware options
Embedded vision CSI-2 camera with AR0135CS sensor
Alvium CSI-2 cameras enable new designs for embedded applications with improved image quality and reduced workload for the host. The innovative ALVIUM System on Chip (SoC) performs image corrections and preprocessing tasks onboard the camera instead of the embedded board. Unlike FPGAs commonly used in machine vision cameras, the ALVIUM SoC is extremely power efficient. With Alvium, integrating hardware and software can be done effortlessly, which ultimately reduces development time. The ON Semi AR0135CS CMOS sensor enables imaging at 1.2 megapixel and 52 frames per second. Color models ship with an IR cut filter, monochrome and S-Mount models ship without a filter or protection glass.
Benefits and features
Monochrome (1500 C-120m) and color (1500 C-120c) models
ALVIUM® Technology for on-board image processing
MIPI CSI-2 interface with up to 4 lanes
Platform concept that enables the operation of different Alvium camera models with a common software
Hirose HR FHH55 FPC connector with minimum space requirements for a compact design
Precise sensor-to-lens mount alignment
Standard M3 mounting holes for top and bottom mounting, standard M2 mounting holes for front mounting
Industrial performance for embedded vision applications
Easy-to-install driver and code examples
Hardware options
Housing: Bare board or open housing
Various lens mounts: C-Mount, CS-Mount, or S-Mount
For more information on hardware options, including product codes and technical data, such as technical drawings and mass, see the Alvium Cameras Hardware Options document.
Available accessories
Tripod adapter
Adapter boards connect to various embedded boards.
FPC cables in 120 mm, 220 mm, and 420 mm length
Various lenses and Allied Vision S-Mount lenses with focal lengths 2.97 - 12 mm
Configure your camera!
Select your hardware to see the technical data, downloads, and more information.