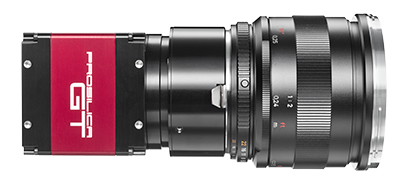 Prosilica GT
4907
Versatile temperature range for extreme environments
IEEE 1588 PTP
Power over Ethernet
7.6 fps @ full resolution
15.7 Megapixel CCD camera for extreme environments - GigE Vision®
Prosilica GT4907/GT4907C is a 15.7 Megapixel camera with a GigE Vision compliant Gigabit Ethernet interface. This camera incorporates the high quality ON Semiconductor KAI-16070 CCD TRUESENSE sensor providing excellent monochrome and color image quality. It is a rugged camera designed to operate in extreme environments. It is a large format housing camera with a standard F-Mount lens mount. By default monochrome models ship with no optical filter and color models ship with an IRC30 IR cut filter.
Options:
Various IR cut/pass filters and lens mounts
Class 1 sensor
See the Modular Concept for lens mount, optical filters, and sensor options.
Specifications
Features
Applications
Quantum efficiency
Downloads
Accessories
Interface
IEEE 802.3 1000BASE-T, IEEE 802.3af (PoE)
Resolution
4864 (H) × 3232 (V)
Sensor
ON Semiconductor KAI-16070
Sensor type
CCD Progressive
Cell size
7.4 µm x 7.4 µm
Image buffer (RAM)
128 MByte
Bit depth
14 (monochrome); 12 (color) Bit
Mono modes
Mono8, Mono12, Mono12Packed, Mono14
Color modes YUV
YUV411Packed, YUV422Packed, YUV444Packed
Color modes RGB
RGB8Packed, BGR8Packed, RGBA8Packed, BGRA8Packed
Raw modes
BayerGR8, BayerGR12, BayerRG12Packed
General purpose inputs/outputs (GPIOs)
TTL I/Os
1 input, 2 outputs
Opto-isolated I/Os
1 input, 2 outputs
Operating conditions/dimensions
Operating temperature
-20 °C to +50 °C ambient (without condensation)
Power requirements (DC)
7 to 25 VDC; PoE
Power consumption (@12 V)
7.7 W @ 12 VDC; 9.5 W PoE
Body dimensions (L × W × H in mm)
96 × 66 × 53.3 (including connectors)
Regulations
CE, RoHS, REACH, WEEE, FCC, ICES
Image optimization features:
Auto gain (manual gain control: 0 to 32 dB)
Auto exposure (manual exposure control: 35 µs to 26.8 s)
Auto white balance (color models only)
Binning (horizontal and vertical)
Color correction, hue, saturation (color models only)
Column defect masking
Decimation X/Y
Gamma correction
Look-up tables (LUTs)
Region of interest (ROI), separate ROI for auto features
Reverse X/Y
Camera control features:
EF lens control (order option -18)
Event channel
Image chunk data
IEEE 1588 Precision Time Protocol (PTP)
RS232
Storable user sets
StreamBytesPerSecond (easy bandwidth control)
StreamHold
Sync out modes: Trigger ready, input, exposing, readout, imaging, strobe, GPO
Tap mode switchable in Vimba Viewer 2.0 or later (four-tap, one-tap)
Temperature monitoring (main board and sensor board)
Trigger over Ethernet (ToE) Action Commands
Prosilica GT4907/GT4907C is ideal for a wide range of applications including:
Outdoor imaging
Traffic imaging / Intelligent Traffic Systems (ITS)
Public security and surveillance
Industrial inspection
Machine vision
Military and space applications