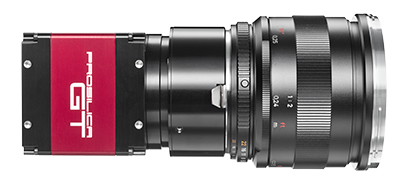 Prosilica GT
4400
High spatial resolution
IEEE 1588 PTP
Power over Ethernet
Defect pixel masking
19.6 megapixel machine vision camera with Sony IMX367 CMOS sensor
Prosilica GT4400 is a large format camera equipped with a GigE Vision compliant Gigabit Ethernet port and Hirose I/O port. This camera incorporates the second generation Sony IMX367 CMOS sensor with Pregius global shutter technology. This sensor offers high quantum efficiency, high dynamic range and spatial resolution, low readout noise and provides excellent imaging performance. At full resolution, this camera runs at 6.12 frames per second. With a smaller region of interest, higher frame rates are possible. This camera is ideal for high-definition imaging applications with demanding requirements on robustness and design-in flexibility. The rugged camera design, effective passive cooling, and comprehensive feature set make these Prosilica GT4400 cameras an ideal choice for a wide range of applications. Prosilica GT4400 has an F-Mount as standard. A new C-Mount option is available via our Modular Concept.
By default, monochrome models ship with no optical filter and color models ship with a Type IRC30 IR cut filter.
Benefits and features
Monochrome (GT4400) and color (GT4400C) models
Screw mount RJ45 Ethernet connector for secure operation in industrial environments
Supports cable lengths up to 100 meters (CAT-5e or CAT-6)
Trigger over Ethernet Action Commands allow for a single cable solution to reduce system costs
Comprehensive I/O functionality for simplified system integration
Planarity adjusted (PA) EF Lens Mount (option -18) for electronic control of aperture and autofocus
Easy camera mounting via standard M3 threads at all sides and 1/4-20 tripod mounting hole
Defect pixel masking feature with the Defect Mask Loader tool that allows you to manage a user defined defective pixel list to match your application and optimize the life cycle of the camera.
Easy software integration with Allied Vision's Vimba Suite and compatibility to the most popular third party image-processing libraries.
Hardware options
Various lens mounts: Select between F-Mount, F-Mount PA, EF-Mount PA, M42-Mount, M42-Mount PA, M58-Mount, M58-Mount PA, TFL-Mount, or C-Mount
Various optical filters: Select between B 270 ASG protection glass and filter types: IRC30 IR cut filter, Schneider 486 IR cut filter

See the Modular Concept for lens mount and optical filters options. See the Customization and OEM Solutions webpage for additional options.
Specifications
Features
Applications
Quantum efficiency
Downloads
Accessories
Interface
IEEE 802.3 1000BASE-T, IEEE 802.3af (PoE)
Resolution
4432 (H) × 4436 (V)
Pixel size
3.45 µm × 3.45 µm
Shutter mode
Global shutter
Lens mounts (available)
F-Mount, F-Mount PA, EF-Mount PA, M42-Mount, M42-Mount PA, M58-Mount, M58-Mount PA, C-Mount, TFL-Mount
Max. frame rate at full resolution
6.12 fps
Image buffer (RAM)
128 MByte
Imaging performance data is based on the evaluation methods in the EMVA 1288 Release 3.1 standard for characterization of image sensors and cameras. Measurements are typical values for monochrome models measured at full resolution without optical filter.
Quantum efficiency at 529 nm
64 %
Temporal dark noise
2.3 eˉ
Saturation capacity
10300 eˉ
Absolute sensitivity threshold
2.7 eˉ
Monochrome pixel formats
Mono8, Mono12Packed, Mono12
Raw pixel formats
BayerRG8, BayerRG12, BayerRG12Packed
Operating conditions/dimensions
Operating temperature
-20 °C to +50 °C housing (without condensation)
Power requirements (DC)
7 to 25 VDC AUX or IEEE 802.3at Type 1 PoE
Power consumption
External power: 5.0 W at 12 VDC | Power over Ethernet: 6.2 W
Body dimensions (L × W × H in mm)
96 × 66 × 53.3 (including connectors)
Regulations
CE: 2014/30/EU (EMC), 2011/65/EU, including amendment 2015/863/EU (RoHS); FCC Class A; CAN ICES-3 (A)
Image optimization features:
Auto gain (manual gain control: 0 to 40 dB; 0.1 dB increments)
Auto exposure (exposure time control varies by per pixel format)
Auto white balance (GT4400C only)

White balance ratio from 0.01 to 3.99

Binning (horizontal and vertical)
BlackLevel (offset)
Color correction, hue, saturation (GT4400C only)
Decimation X/Y
Defect pixel masking (user defined with Defect Mask Loader tool)
Gamma correction
One look-up table
Region of interest), separate region for auto features
Reverse X/Y
Camera control features:
Automatic EF lens control (option -18)
Event channel
Image chunk data
IEEE 1588 Precision Time Protocol
RS232
Storable user sets
StreamBytesPerSecond (bandwidth control)
Stream hold
Sync out modes: Trigger ready, input, exposing, readout, imaging, strobe, GPO
Temperature monitoring (sensor board and main board)
Trigger over Ethernet via Action Commands
Prosilica GT4400 is ideal for a wide range of applications including:
Industrial inspection including display inspection, surface inspection, semiconductor packaging inspection, print inspection, 2D/3D metrology, laser beam profiling, and automated optical inspection
Outdoor imaging applications including railway inspection, aerial imaging, traffic and transportation, surveillance, and defense
Medical and life sciences applications including lab and biomedical imaging, pharma and cosmetic inspection, track and trace applications
Archival imaging of documents and digitization of film