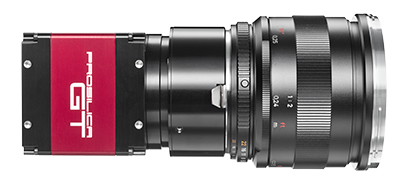 Prosilica GT
4090
Type 4/3 CMOS sensor
IEEE 1588 PTP
Power over Ethernet
9.58 fps at full resolution
12.5 Megapixel machine vision camera for extended temperature ranges
Prosilica GT4090 is a 12.5 Megapixel camera with a GigE Vision compliant Gigabit Ethernet port and Hirose I/O port. Prosilica GT4090 is offered a monochrome model. This camera incorporates the high quality ON Semi PYTHON 12K (NOIP1SN012KA) CMOS sensor with In-pixel Correlated Double Sampling global shutter technology. At full resolution, this camera runs 9.58 frames per second. With a smaller region of interest, higher frame rates are possible. Prosilica GT4090 is a rugged camera with a robust thermal housing that is designed to operate in extended temperature ranges and fluctuating lighting conditions. It is a large format housing camera with a standard F-Mount lens mount. By default monochrome models ship with no optical filter.
Benefits and features
Monochrome (GT4090) model
GigE Vision interface with Power over Ethernet
Screw mount RJ45 Ethernet connector for secure operation in industrial environments
Supports cable lengths up to 100 meters (CAT-6 recommended)
The ON Semi PYTHON 12K is a high sensitivity CMOS sensor
Trigger over Ethernet Action Commands allow for a single cable solution to reduce system costs
Comprehensive I/O functionality for simplified system integration
Planarity adjustable (PA) EF Lens Mount (option -18) for electronic control of aperture and autofocus
Easy camera mounting via standard M3 threads at all sides and 1/4-20 tripod mounting hole
Easy software integration with Allied Vision's Vimba Suite and compatibility to the most popular third party image-processing libraries.
Enhanced Defect Pixel Correction feature with a new Defective Pixel List Manager tool that allows you to load different user defined defective pixel lists to match your application and optimize the life cycle of the camera
Specifications
Features
Applications
Quantum efficiency
Downloads
Accessories
Interface
IEEE 802.3 1000BASE-T, IEEE 802.3af (PoE)
Resolution
4096 (H) × 3072 (V)
Sensor
ON Semi PYTHON 12K
Pixel size
4.5 µm × 4.5 µm
Shutter mode
Global shutter
Lens mount (default)
F-Mount
Max. frame rate at full resolution
9.58 fps
Image buffer (RAM)
128 MByte
Imaging performance data is based on the evaluation methods in the EMVA 1288 Release 3.1 standard for characterization of image sensors and cameras. Measurements are typical values for monochrome models measured without optical filter.
Quantum efficiency at 529 nm
54 %
Temporal dark noise
28.0 eˉ
Saturation capacity
8400 eˉ
Absolute sensitivity threshold
28.6 eˉ
Monochrome pixel formats
Mono8, Mono10
Operating conditions/dimensions
Operating temperature
-20 °C to +50 °C ambient (without condensation)
Power requirements (DC)
7 to 25 VDC AUX or 802.3at Type 1 PoE
Power consumption
4.96 W at 12 VDC; 6.7 W PoE
Body dimensions (L × W × H in mm)
96 × 66 × 53.3 (including connectors)
Regulations
CE: 2014/30/EU (EMC), 2011/65/EU, including amendment 2015/863/EU (RoHS); FCC Class A; CAN ICES-003 Issue 4/5
Image optimization features:
Auto gain (manual gain control: 0 to 22 dB)
Auto exposure (manual exposure control: 1 µs to 1 s, 1 µs increments)
Binning (horizontal and vertical) (sum)
Decimation X/Y
Enhanced Defect Pixel Correction
Fixed Pattern Noise Correction
Gamma correction
Three look-up tables
Region of interest
Camera control features:
EF lens control (order option -18)
Event channel
Image chunk data
IEEE 1588 Precision Time Protocol
RS232
Storable user sets
StreamBytesPerSecond (bandwidth control)
Stream hold
Sync out modes: Trigger ready, input, exposing, readout, imaging, strobe, GPO
Temperature monitoring (main board and sensor board)
Trigger over Ethernet Action Commands
Prosilica GT4090 is ideal for a wide range of applications including:
Outdoor imaging
Intelligent Traffic Systems
Public security and surveillance
Industrial inspection (for example food, bottles, recycling, labels)
Microscopy
Military and space applications
Medical and healthcare
Other machine vision applications