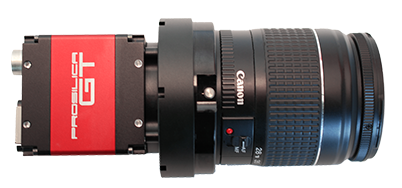 Prosilica GT
1930L
Versatile temperature range for extreme environments
IEEE 1588 PTP
Power over Ethernet
EF lens control
2.4 Megapixel CMOS camera for extreme environments - GigE Vision®
Prosilica GT1930L/GT1930LC is a 2.4 Megapixel camera with a GigE Vision compliant Gigabit Ethernet interface. This camera incorporates the high quality Sony IMX174 Exmor CMOS sensor with Pregius global shutter technology providing excellent monochrome and color image quality. It is a rugged camera designed to operate in extreme environments. This camera ships with a planarity adjustable EF-Mount as standard. By default monochrome models ship with no optical filter and color models ship with an IRC30 IR cut filter.
Options:
Various IR cut/pass filters and lens mounts
See the Modular Concept for lens mount and optical filter options.
Specifications
Features
Applications
Quantum efficiency
Downloads
Accessories
Interface
IEEE 802.3 1000BASE-T, IEEE 802.3af (PoE)
Resolution
1936 (H) × 1216 (V)
Cell size
5.86 µm x 5.86 µm
Image buffer (RAM)
128 MByte
Mono modes
Mono8, Mono12Packed, Mono12
Color modes YUV
YUV411Packed, YUV422Packed, YUV444Packed
Color modes RGB
RGB8Packed, BGR8Packed
Raw modes
BayerRG8, BayerRG12
General purpose inputs/outputs (GPIOs)
TTL I/Os
1 input, 2 outputs
Opto-isolated I/Os
1 input, 2 outputs
Operating conditions/dimensions
Operating temperature
-30 °C to +70 °C housing (without condensation)
Power requirements (DC)
7 to 25 VDC; PoE
Power consumption (@12 V)
3.24 W @12 VDC; 3.88 W PoE
Body dimensions (L × W × H in mm)
96 × 66 × 53.3 (including connectors)
Regulations
CE, RoHS, REACH, WEEE, FCC, ICES
Image optimization features:
Auto gain (manual gain control: 0 to 40 dB; 0.1 dB increments)
Auto exposure (exposure time control varies by per pixel format)
Auto white balance (color models only)
Binning (horizontal and vertical)
BlackLevel (offset)
Color correction, hue, saturation (color models only)
Decimation X/Y
Gamma correction
Look-up tables (LUTs)
Region of interest (ROI), separate ROI for auto features
Reverse X/Y
Camera control features:
EF lens control
Event channel
Image chunk data
IEEE 1588 Precision Time Protocol (PTP)
RS232
Storable user sets
StreamBytesPerSecond (easy bandwidth control)
Stream hold
Sync out modes: Trigger ready, input, exposing, readout, imaging, strobe, GPO
Temperature monitoring (main board only)
Trigger over Ethernet (ToE) Action Commands
Prosilica GT1930L/GT1930LC is ideal for a wide range of applications including:
Outdoor imaging
Traffic imaging / Intelligent Traffic Systems (ITS)
Public security and surveillance
Industrial inspection
Machine vision
Military and space applications