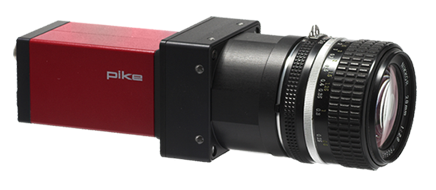 Pike
F-1600
Versatile IEEE 1394b camera
Advanced feature set
Many variants
High frame rates
16 Megapixel premium camera – 35 mm CCD sensor ON Semiconductor KAI-16000
The Pike F-1600B/F-1600C is a 16 Megapixel IEEE 1394b camera with exceptional image quality. It can be operated in either single tap or dual tap mode. At full resolution, it runs up to 3.1 frames per second (dual tap). Higher frame rates can be reached by using a smaller area of interest (AOI), binning (b/w), or sub-sampling.
Options:
IEEE 1394b connectors: 2 x copper (daisy chain) or 1 x GOF, 1 x copper, Hirose power: out
Various IR cut/pass filters, various lens mounts
Angled head, white medical housing
Specifications
Features
Applications
Quantum efficiency
Downloads
Accessories
Interface
IEEE 1394b - 800 Mb/s, 2 ports, daisy chain, fiber optic (GOF) optional
Resolution
4872 (H) × 3248 (V)
Sensor type
CCD Progressive
Pixel size
7.4 µm × 7.4 µm
Lens mount (default)
F-Mount
Max. frame rate at full resolution
3 fps
Image buffer (RAM)
256 MByte
Monochrome pixel formats
Mono8, Mono12, Mono16
RGB color pixel formats
RGB8
Raw pixel formats
Raw8, Raw12, Raw16
General purpose inputs/outputs (GPIOs)
Opto-isolated I/Os
2 inputs, 4 outputs
Operating conditions/dimensions
Operating temperature
+5 °C to +50 °C
Power requirements (DC)
8 V to 36 V
Power consumption
4 W (@ 12 VDC)
Body dimensions (L × W × H in mm)
142.8 × 59 × 59 (including connectors)
Regulations
CE: 2014/30/EU (EMC), 2011/65/EU, including amendment 2015/863/EU (RoHS); FCC Class B
High SNR mode (up to 24 dB better signal-to-noise ratio)
Low-noise binning mode
Smear reduction
Shading correction
Defect pixel correction
Area of interest (AOI), separate AOI for auto features
Binning
Decimation
Auto gain (manual gain control: 0 to 24 dB)
Auto exposure (636 µs to 67 s)
Auto white balance
Look-up table (LUT)
Hue, saturation, color correction
Reverse X
Deferred image transport
Trigger programmable, level, single, bulk, programmable delay
Sequence mode (changes the camera settings on the fly)
SIS (secure image signature, time stamp for trigger, frame count)
Storable user sets
The Pike F-1600B/F-1600C is made for high-precision applications which require highest attention to detail. Its excellent image quality can be enhanced by several image pre-processing functions. It is also available with M42-Mount or with M58-Mount.

This camera is well-suited for:
Science and research
Metrology
Document scanning (replaces DSLR cameras - no mechanical shutter, long life time)
Healthcare and medical applications
Industrial inspection at high resolutions
Aerial imaging
Very demanding OEM camera applications
Intelligent traffic solutions (ITS)
Long cables - 400 meters and more without additional repeaters (fiber version)