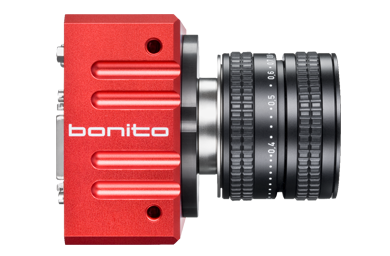 Bonito
CL-400 200 fps
Bonito CL-400 200 fps High Speed camera, 4 Megapixels with 193 fps, Camera Link
High Speed camera, 4 Megapixels with 193 fps, Camera Link
The Bonito CL-400B/C 200 fps reaches 193 fps at full resolution. Allied Vision Technologies offers this slower Bonito version at a lower price than the fast version. It comes with the same CMOS global shutter sensor. Higher frame rates can be reached with a smaller ROI (region of interest).
Benefits and features:
193 fps at 2320 x 1726 pixels
Global shutter CMOS sensor (excellent sensitivity due to microlenses)
Robust and lightweight aluminum alloy housing
High data rates, 1 x 10 tap Camera Link Full+ with 80 MHz
Very low power consumption, <4.2 W
Options:
Available with C- / F- / EF-Mount
Specifications
Features
Applications
Quantum efficiency
Downloads
Accessories
Interface
1 x 10-tap Camera Link Full+
Resolution
2320 (H) × 1726 (V)
Sensor
CMOS Sensor 4 MPixel
Lens mount (default)
C-Mount, EF-Mount, F-Mount
Max. frame rate at full resolution
193 fps
Monochrome pixel formats
Mono8
General purpose inputs/outputs (GPIOs)
Opto-isolated I/Os
1 in, 1 out
Operating conditions/dimensions
Operating temperature
0 °C to +45 °C
Power requirements (DC)
12 V
Power consumption
4.2 W @ 12 VDC
Body dimensions (L × W × H in mm)
44.2 × 80 × 70 (including connectors)
Regulations
CE: 2014/30/EU (EMC), 2011/65/EU (RoHS)
Region of interest (ROI
Fixed pattern noise (FPN) correction
Digital gain (selects 8 of 10 bits for output)
Offset (brightness)
Exposure time: 3.0 µs, up to 1 s (recommended), > 1s also possible
Continuous mode (image acquisition with maximum frame rate)
Image on demand mode (triggered image acquisition)
The Bonito CL-400B/C 200 fps is a good choice for applications which require a fast frame rate and excellent image quality. Its global shutter CMOS sensor is ideally suited for high-resolution motion capture. Another benefit is the robust, lightweight, and very compact housing. The camera transmits the images to the frame grabber in real-time.
Typical applications:
Applications with high demands on image quality and fast frame rates
Motion capture with high resolution
3D recordings of still and moving objects
Science and research
Medical imaging
High speed imaging in general