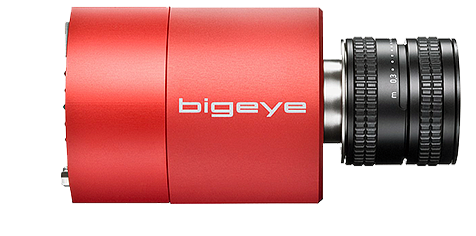 Bigeye P
P-132 NIR
Superior image quality
Enhaced NIR sensitivity
Peltier cooling -20°C
NIR optimized camera with Sony ICX285, Peltier cooling -20°C
The Bigeye P-132B NIR Cool is distinguished by high performance both in the visible spectrum and the NIR spectrum; its ICX285 CCD sensor is modified for enhanced NIR sensitivity. The compact, robust metal housing has a hermetically sealed vacuum section. It ensures maintenance-free operation for many years even under rough conditions.
Benefits and features:
Sony ICX285 EXview HAD CCD sensor, enhanced NIR sensitivity
Peltier cooling to -20° Celsius absolute
12.5 fps at max. resolution, 25 fps with binning
Exposure time 100 µs sec to 1000 seconds
Superior signal-to-noise ratio
Models:
Bigeye P-132B NIR Cool (GigE)
Specifications
Features
Applications
Quantum efficiency
Downloads
Accessories
Interface
IEEE 802.3 1000baseT
Resolution
1280 (H) × 1024 (V)
Sensor type
CCD Progressive
Pixel size
6.45 µm × 6.45 µm
Lens mount (default)
C-Mount
Max. frame rate at full resolution
12.5 fps
Monochrome pixel formats
Mono8, Mono10, Mono12
Raw pixel formats
BayerGB8, BayerGB10, BayerGB12
General purpose inputs/outputs (GPIOs)
Operating conditions/dimensions
Operating temperature
0 °C to +35 °C
Power requirements (DC)
12 V
Power consumption
33.6 W @ 12 VDC
Body dimensions (L × W × H in mm)
111 × 90 × 99 (including connectors)
Regulations
CE: 2014/30/EU (EMC), 2011/65/EU (RoHS)
Binning (2 x 2)
Gain (6 dB)
Exposure time 100 µs to 1000 seconds
Background correction
Continuous mode (image acquisition with maximum frame rate)
Image on demand mode (triggered image acquisition)

In combination with Allied Vision's AcquireControl software, extensive image analysis functions are available:
BCG LUT (brightness, contrast, gamma)
Auto contrast
Auto brightness
Analyze multiple regions (rectangular, circle) within the image
Real-time statistics and histogram display
The Bigeye P-132B NIR Cool is optimized for image acquisition both in the visible and in the NIR spectral range. For this reason, many applications can be realized with just one camera.
Applications:
Machine vision, visible and NIR spectrum
Food inspection
Medical and healthcare
Microscopy
Solar cell/wafer inspection, visible and NIR:

Glass inspection
Assembling inspection
Electroluminescence
Micro cracks detection
Defects
Efficiency
Camera installation and technical manual
GigE Installation Manual V1.2.0

GigE installation manual; gigabit ethernet camera installation; Gige Kamera Installation Gige Installationsanleitung; Gige Installationshandbuch
Software and Firmware
AcquireControl is a viewer and image analysis application for our LWIR, SWIR, and cooled cameras.
To obtain firmware for your Bigeye camera, please contact our technical support team.