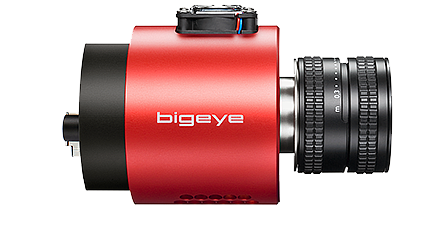 Bigeye G
G-132 Cool
Exposure time up to more than 4200 s
Excellent quantum efficiency
Peltier cooled CCD camera with Sony ICX285, -20 °C
The Bigeye G-132B Cool is a low noise CCD camera. It is distinguished by an outstandingly low dark current and an excellent quantum efficiency. The Bigeye G-132B Cool is designed to produce a superior image quality even at very long exposure times.
Benefits and features:
GigE Vision, Multi-functional, user-configurable I/O interface
Sony ICX285 EXview HAD CCD sensor, 1280 x 1024 pixels, quantum efficiency @530 nm: 72%, exposure time up to 4292 s (≈ 71 min)
Reliable operation under rough industrial conditions
Specifications
Features
Applications
Quantum efficiency
Downloads
Accessories
Interface
IEEE 802.3 1000baseT
Resolution
1280 (H) × 1024 (V)
Sensor type
CCD Progressive
Pixel size
6.45 µm × 6.45 µm
Lens mount (default)
C-Mount, F-Mount
Max. frame rate at full resolution
12.5 fps
Image buffer (RAM)
32 MByte
Saturation capacity
13000 e-
Monochrome pixel formats
Mono8, Mono12, Mono12Packed
General purpose inputs/outputs (GPIOs)
Operating conditions/dimensions
Operating temperature
0 °C to +35 °C
Power consumption
max. <36 W @ 12 VDC, typ. <18 W @ 12 VDC
Body dimensions (L × W × H in mm)
100.8 × 90 × 99 (including connectors)
Regulations
CE: 2014/30/EU (EMC), 2011/65/EU (RoHS)
Gain (6 dB)
Binning (2x1, 2x2)
Exposure time 80077 µs to 4294 seconds (≈ 71 min)
Three look-up tables (LUTs)
Gamma (0.45, 0.5, 0.7)
Five storable user sets
Easy integration
The Bigeye G-132B Cool can be easily integrated into your application, since it is GigE Vision compliant and compatible with Allied Vision's GigE SDKs. Additionally, this camera can be used with numerous third-party software solutions.
The Bigeye G-132B Cool is a prime quality CCD camera with dual level Peltier cooling. It is best suited for applications with the highest demands on image quality, especially under low-light conditions.
Typical applications:
Low-noise imaging (industrial and scientific imaging)
Image acquisition with long exposure times
Microscopy with high resolution
Fluorescence microscopy
Gel electrophoresis, DNA documentation
Non-destructive evaluation of photosensitive objects
Astronomy