Warehouses and distribution centers are the workhorses of every global supply chain, Autonomous Guided Vehicles (AGVs) and Automated Mobile Robots (AMRs) are taking over from forklifts​. Vision systems enable them to avoid collisions and position themselves accurately. However, also forklifts are equipped with vision systems to support the driver for preventing collisions with humans and objects. At the fork, vision is used for barcode reading, sign, shelf detection and load observation.
Robotic arms have long been used in industrial applications, where they perform a wide range of activities. This technology has made it into forward looking logistics operations as well. Robotic arms are multi-jointed, with a variety of end effectors that can lift, push, pull, turn, and otherwise move objects to the desired position.
3D Vision use dimensioning and item detection capabilities to improve process efficiency and quality of operations.
Wahrehouse automation
Autonomous Mobile Robots (AMR)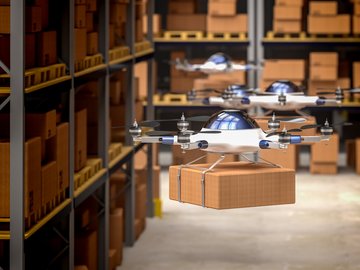 Automated Guided Vehicles (AGVs)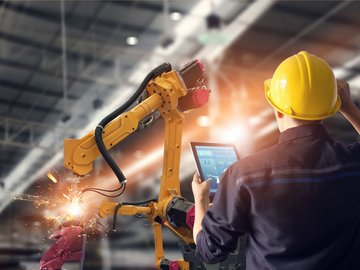 Robotics
These applications all share key requirements regarding a vision system.
Small size, low weight

Energy efficient, low power consumption

Color camera with low to high resolution and high bandwidth

Low latency and low system overhead

Established long cable solutions to connect multi-cameras on one host

Robust, shock and vibration restistant, waterproof housing options

Extended temperature range

Cost effectiveness
The Alvium camera series meet all requirements by offering a large variety of different camera models. All Allied Vision Alvium cameras share the same platform. They are based on ALVIUM® Technology – a custom ASIC packed with unique features and 30 years of machine vision industry expertise. This offers highest flexibility for the development of any vision systems and makes it very easy to adjust and upgrade it when prototyping, upgrading or downgrading your system.
Alvium cameras are available with 6 different interfaces for diverse requirements. Together with the large choice of high-quality image sensors, various lens mount and housing options, and a wide range of spectral sensitivities the Alvium platform offers highest flexibility and more than 200 cameras to choose from.
One platform - infinite solutions
Finding the right camera for your application
For more than 30 years, Allied Vision has been helping people to reach their imaging goals. By focusing on what counts for each customer, Allied Vision finds solutions for every application, a practice which has made Allied Vision one of the leading camera manufacturers worldwide in the machine vision market.
Our engineers design digital cameras with a large scope of resolutions, frame rates, bandwidths, interfaces, spectral sensitivities, sensor technologies, and technical platforms.