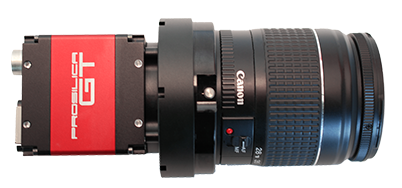 Prosilica GT
1930L
Versatile temperature range for extreme environments
Latest Sony CMOS sensor
PTP and PoE
EF lens control
2.4 Megapixel CMOS camera for extreme environments - GigE Vision®
Prosilica GT1930L/GT1930LC is a 2.4 Megapixel camera with a GigE Vision Gigabit Ethernet interface. This camera incorporates the high quality Sony IMX174 Exmor CMOS sensor with Pregius global shutter technology providing excellent monochrome and color image quality. It is a rugged camera designed to operate in extreme environments. This camera ships with a planarity adjustable EF-Mount as standard.
Options:
Various IR cut/pass filters and lens mounts
See the Modular Concept for lens mount and optical filter options.
性能参数
特性
应用场景
量子转换效率
下载
Accessories
接口
IEEE 802.3 1000BASE-T, IEEE 802.3af (PoE)
非易失性内存 (Flash)
1024 KByte (for selected models only)
黑白模式
Mono8, Mono12Packed, Mono12
彩色模式 YUV
YUV411Packed, YUV422Packed, YUV444Packed
彩色模式RGB
RGB8Packed, BGR8Packed
TTL I/Os
1 input, 2 outputs
光耦 I/Os
1 input, 2 outputs
工作温度
-30 °C to +70 °C housing (without condensation)
电源要求 (DC)
7 to 25 VDC; PoE
功耗 (@12 V)
3.24 W @12 VDC; 3.88 W PoE
尺寸(L × W × H in mm)
96 × 66 × 53.3 (including connectors)
符合规范
CE, RoHS, REACH, WEEE, FCC, ICES
Image optimization features:
Auto gain (manual gain control: 0 to 40 dB; 0.1 dB increments)
Auto exposure (exposure time control varies by pixel format)
Auto white balance (color models only)
Binning (horizontal and vertical)
BlackLevel (offset)
Color correction, hue, saturation (color models only)
Decimation X/Y
Gamma correction
Look-up tables (LUTs)
Region of interest (ROI), separate ROI for auto features
Reverse X/Y
Camera control features:
EF lens control
Event channel
Image chunk data
IEEE 1588 Precision Time Protocol (PTP)
RS232
Storable user sets
StreamBytesPerSecond (easy bandwidth control)
Stream hold
Sync out modes: Trigger ready, input, exposing, readout, imaging, strobe, GPO
Temperature monitoring (main board only)
Trigger over Ethernet (ToE) Action Commands
Non-volatile memory 1024 KByte (for selected models only)
Prosilica GT1930L is ideal for a wide range of applications including:
Outdoor imaging
Traffic imaging / ITS
Public security and surveillance
Industrial inspection
Machine vision
Military and space applications