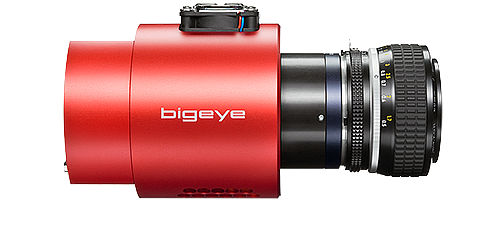 Bigeye G
G-1100 Cool
Outstanding signal-to-noise ratio
Exposure time up to more than 4200 s
10 Megapixel resolution
11 Megapixel CCD camera, cooled OnSemi 35 mm sensor
The Bigeye G-1100B Cool is a high-resolution cooled CCD camera. It includes a sensitive 35 mm OnSemi sensor. Due to the cooling to 0 °C, this camera features high-resolution imaging with outstanding signal-to-noise ratio.
Benefits and features:
GigE Vision, multi-functional, user-configurable I/O interface
OnSemi KAI-11002 sensor, 4024 x 2680 pixels, quantum efficiency @530 nm: 59%, peltier cooled to 0 °C, Exposure time up to 4292 s (≈ 71 min)
Reliable operation under rough industrial conditions
性能参数
特性
应用场景
量子转换效率
下载
Accessories
黑白模式
Mono8, Mono12, Mono12Packed
功耗 (@12 V)
max. <36 W, typ. <18 W
尺寸(L × W × H in mm)
132.8 × 90 × 99 (including connectors)
符合规范
CE (2004/108/EC), RoHS (2011/65/EU), WEEE (2002/96/EC), FCC Class B
Gain (6 dB)
Exposure time 1394 µs to ≈ 71 minutes
Binning (1x2, 2x1, 2x2)
Gamma (0.45, 0.5, 0.7)
Three look-up tables (LUTs)
Five storable user sets
Easy integration
The Bigeye G-1100B Cool can be easily integrated into your application, since it is GigE Vision compliant and compatible with Allied Vision's GigE SDKs. Additionally, this camera can be used with numerous third-party software solutions.
The Bigeye G-1100B Cool is the perfect choice for image acquisition with high resolution and low noise. Long exposure times with the cooled sensor produce images with outstanding image quality.

Typical applications:
Low-noise imaging (industrial and scientific imaging)
Image acquisition with long exposure times
Microscopy with high resolution
Fluorescence microscopy
Gel electrophoresis, DNA documentation
Non-destructive evaluation of photosensitive objects
Astronomy